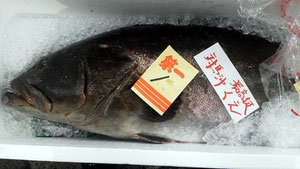 最高級「くえ」が入荷しました。対馬沖24キロ物、私達、築地人誰もが「食べてみたい!」と、うなってしまうお魚。しかもこの時期が旬。食べてみたいかたは築地場外市場の「刺身Bar・河岸頭」さんに、行って食べてみてください。「理屈抜きにうまい!」の一言です。「ヤマハルの紹介です!」と言えば、一切れ多く入れてくれるよ!

築地場外「河岸頭」さんHP http://kashigashira.com/
The winter king "Que" came Tsukiji-Yamaharu this year.
【クエ/垢穢/泥斑】Epinephelus bruneus
In the winter season, it is treated sashimi dishes and pans ("pot Que" in Wakayama, "pot" coarse in Fukuoka), such as luxury food will be caught almost year round. The query of natural products, but less. In the sumo world as familiar ingredients of Chanko. There is a bland taste thick subcutaneous fat and pull the skin, often cited as examples of "the apparent delicious fish to big bad." Exist throughout both person called a "demolition expert" or "master" fishing also.Recent years has also been cultured, it is trying to appeal to attract tourist destinations, such as cooking queries in Shirahama-cho.To be processed goods from the price point is rare, in the city of Cuernavaca was Do~tsu Burdock barrel form a question using surimi was added to the query to other white fish are produced.Called 泥斑(Naipan Cantonese) in Hong Kong, and abroad are materials such as steamed.Asaba giant fish, has also become a heartthrob of anglers. There is also a large population that can be lifted up to 1m or more rarely, the local version of the newspaper headlines.
---