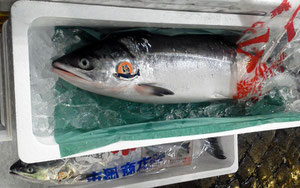 秋も深まり、北海道羅臼産の「鮭児(けいじ)」が、私たちの築地市場に徐々に姿を見せ始めました。いよいよ魚のおいしい季節がまいりました。
本日17日の鮭児の入荷量は8本だけ。鮭児と言えば「1万本、2万本に1本の幻」。やはり、ここ築地でも、そう言われる通りになってしまうのか…。通常は、毎日築地市場にいれば「鮭児」といえども当たり前のように見かけるわけですが、この時期に8本と言うのはさすがに少ない!異例の年ですね!
それでも築地・山治は、本日、6本を買いつけました!冷凍ではなく、生鮭児!ピッカピカです。もちろん航空便にて最高鮮度を保ってます!!
興味のある方、使ってみたい方、食べさせたい方、食べたい方は、是非ご連絡下さい!!毎度!!
The child salmon"Keiji" is coming!
"Keiji" is the Child salmon.
Child salmon? It is said that the children of young salmon"Tokizake". In the taste of fat, such as melting, like a refreshing melon faint, it involves a scent that can be called a crusta...cean or even subtly. Naturally, it is a child of salmon white Yuku to return to the Amur River in Russia, slipped into a flock of salmon born in rivers in Japan that migration to the Bering Sea, we will return to Japan, the coast of the Sea of Okhotsk and the Pacific Ocean in Hokkaido is one that has been caught in nets off the coast.Size of about 3 kilometers to 2 kilometers of 3 years from the age of 2, but it still is not spawning experience, the only meat that was faint praise signs of incubation is going great guns with plenty. Not to say that because it is a child still in the migration, and to return to Russian River as it seems they shake off the eggs in the sea even when incubation.Reputation of one tail, was sufficient for the topicality also received media combines the rare and the effect on the tail 10 000. Tail to the world of one, before anything had been said to tail to tail 5,000 one, but I came to be hype as "fish" phantom tail 10 000 to a little quickly.
---